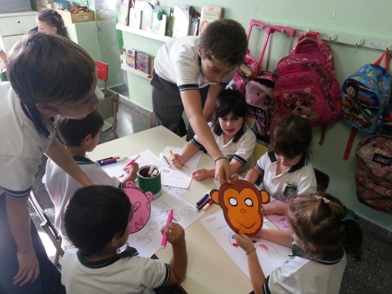 ENGLISH WEEK: BECOMING THE BEST VERSION OF OURSELVES!
2017-05-08 09:33:22
Since April 24, the whole school has been working on the same topic for English Week: BECOMING THE BEST VERSION OF OURSELVES!
The aims of this whole-school project are:
to help students realise that God has given each one of us different talents and gifts
to encourage and help sudents to identify their own talents and other people's talents, rather than their weaknesses
to encourage students to put their talents and gifts in service of others
to learn to acknowledge other people's talents
to foster the idea of adding effort, perseverance and passion to everything we do
to develop and strengthen bonds in our community
to be exposed to and learn English from a different perspective
As we walk along the corridors, we can feel the spirit of the project. Most of the classrooms are decorated with colourful pennants containing words or short phrases that summarise this spirit. But the best has been happening inside the classrooms... Each kindergarten and primary class has been visited by older students. Students and teachers have been showing their talents to others, preparing activities, sketches, songs, poems and stories to share with younger and older students. Each corner has been filled with enthusiasm, cheerfulness, tenderness, empathy and our VERY BEST! A great experience!
Ver fotos del Contenido