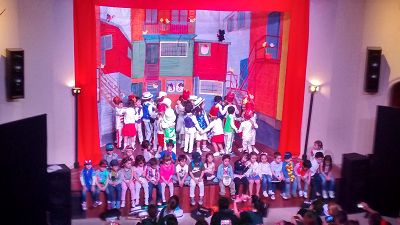 Come and join the Band
2015-09-09 00:48:43
Kinder 4 and 5 gave three colourful performances of Come and Join the Band! The plays were based on some of our school priorities and objectives, the richness of diversity and the relevance of strengthening bonds.
Kinder 5 played the roles of conductors and musicians who didn't want to play together while Kinder 4 pretended to be a cheerful audience, who insisted on sharing and playing music as a band. Finally, they all understood that...
For a band to play
And it's great talent display
For music to be heard
To feel as a flying bird
It's necessary for every part
To work as a group
Because love is an art
And art is love
A force from above
That brings us together.
We all enjoyed their sweet voices, songs and dances, and the great effort shown by the students and teachers to delight the audience with their performances. Well done, Kinder 4 & 5!!
Ver fotos del Contenido